返回上一页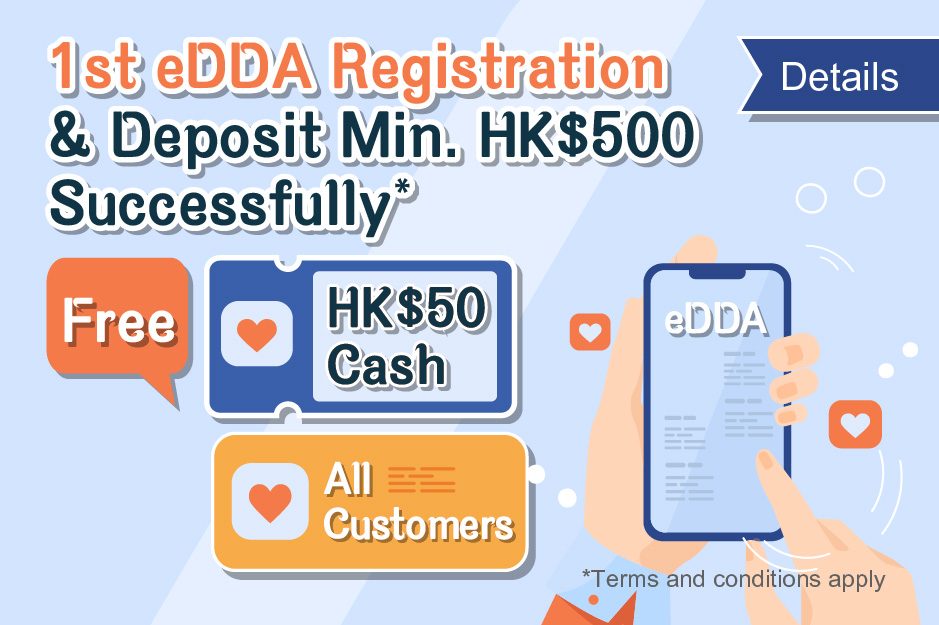 $50 Cash for the 1st eDDA Registration and Deposit min. $500 Successfully
活动详情
$50 Cash for the 1st eDDA Registration and Deposit min. $500 Successfully 
Terms and Conditions:
Date: From 11 December 2020 6p.m. until further notice.
This promotion is only available to Hong Kong customers who are 18 years old or above.
This offer is applicable to both new and existing customers.
HK$50 cash coupon be available after (1) register the e-DDA for the first time within the promotion period and (2) deposit HK$500 or above into the customer's uSMART securities account within 30 days from the date of registration.
The rewards will be deposited to the customers' "Reward Centre" within 7 working days after verifying the customer has met the promotion requirements.
The Company reserves the right to change, suspend or terminate the above offers, terms and conditions at any time without further notice to the customers. Terms and conditions are subject to the Company's interpretation.
The Company reserves the right to modify or cancel the relevant offers at any time without prior notice. In case of any disputes, the Company reserves the right of the final decision of the event and is binding on the participants of the event.
In case of any termination of the Company account due to suspected fraud, violation of any regulations or inappropriate behaviour, the Company reserves the right to take any necessary legal action to recover the rewards that have been deposited or paid to the customer for this promotion plan and any loss arising from the behaviour.
The offer is subject to the above conditions and regulations. Customers who have any enquiries about the above offers are welcome to contact our sales and customer service team at +852 3018 4526.
Risk Disclosure and Disclaimer:
The above promotion is governed by the relevant terms and conditions. USMART SECURITIES LIMITED ("USL") reserves the right to amend or cancel the Offers at any time without prior notice. Should any disputes arise, the decision of USL is final. Investors should note that investments involve risk, prices of funds and financial products may go up as well as down, and past performance is no guide to future performance of the funds. You should consider carefully if the products or funds you are going to purchase into are suitable for your risk tolerance, financial situation, investment experience and investment objective. Investors should read carefully the Explanatory Memorandum (including the section "Risk Factors") in the fund before investing. If you are in doubt, you should seek independent professional advice. The information contained in this website does not constitute as any offer, invitation, solicitation, opinion or any guarantee to deal in any securities, fund, financial products or instruments. This webpage is issued by USMART SECURITIES LIMITED and the contents have not been reviewed by the Securities and Futures Commission.